Good King Daniel's reign continues
Daniel Winchester's third successive King of Pinjar title concluded another highly successful season at Western Australia's leading speedway motorbike venue for the man in green leathers.
Winchester went through the night undefeated to claim the win in a final in which two of the four qualifiers were riding at Pinjar Park for the first time this season. South Australian youngster Dakota Ballantyne last rode here several seasons ago as a visiting junior, while Doug Scoble was making his first appearance since last season. The other qualifier was PP regular Jarryd Ziedas who made up the four virtue of his win in the Last Chance Qualifier.
Ten senior solo riders contested ten heats with Winchester winning his four rides and taking his heat win tally this year to a staggering twenty six. Incredibly Scoble was also undefeated in heat rides while the next best was Ballantyne who took the remaining two heats on a bike he had borrowed a bike from Matt Marson. Winchester was never really challenged for the win in the final, while Ballantyne had the better of the battle with Scoble to claim second.
While Winchester, Ballantyne and Scoble dominated proceedings all riders were among the points which made the Last Chance Qualifier a very willing affair. Ryan Pope, Des Heys, Kobee Ziedas and Jarryd Ziedas all were looking for the win with Jarryd Ziedas out of gate four prevailing.
Carley Gittus, Jack Hunter and New Zealand visitor Brian Miller had their chances and grabbed places but they fell short of the necessary qualifying points.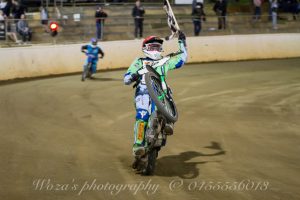 Senior Sidecars
Eight senior sidecar teams turned on some great racing. After twelve heats the final turned into a match race when both the Mills/Thomas and Fanderlinden Brothers outfits had mechanical issues prior to the start. Josh Wells and Corey Blackman raced to victory over the team of Scott Charsley and Morgan Cornwall.
Going into the final Charsley/Cornwall were the form team of the night with four heat wins, followed by Wells/Blackman with three and Mills/Thomas and the Fanderlinden with two each. The team of Greg Chaplin and Dave Mercer who from this scribe's knowledge were making their first appearance at Pinjar Park also took a win. It was also great to see the lanky one, Clayton Mills back in the saddle after his big tumble at the 'Gittus' several weeks back.
A fire on board Chad Harvey/Jamie Thomson's outfit on the infield after the eleventh heat provided some drama. The boys were OK, but some of the 'chair' looked a little worse for wear. While they didn't take a win on the night the pairing of Ron Hankin and Andy Gajek ran strongly as did the flying 'Pinjar Pensioner' Horrie Payne with his partner Clinton Holmwood. Although their night ended early with engine issues.
Junior Sidecars
Once again the Fewster Brothers Jack and Adam along with the Jake Harvey & Tylar Solomon combination and the Keenan Murphy & Josh McQuade team turned it on. All their races are totally unpredictable with plenty of passing throughout. Highly entertaining and great sport! On the night the Fewster brothers won the final but as usual it was anyone's race. The heats were divided between Harvey/Solomon on two wins with Murphy/McQuade and the Fewster's with a win apiece.
250cc Solos
Brad Gordon and Ryan Phillipson did battle over four heats before their final. Gordon won the first three with Phillipson grabbing the fourth. Gordon and Phillipson have very different riding styles, Gordon preferring the low line, while Phillipson works mid track with a lot of speed. It was Gordon's final however. We look forward to seeing these boys making further progress towards senior ranks.
125cc Solos
Eight heats for the 125's with the outcome that the Killeen brothers Declan and Luke and the McDiarmid brothers Jack and Mitchell along with Lincoln Worroll met in the final. Declan has returned to near his best form and won the final over his younger brother Luke who has had a huge 17-18 season. Mitchell McDiarmid finished third, a great result for him.
125cc Lites
Xander Smith won the Final which was part of the main program. It was good to see Xander in form after his hard fall at our last meeting. Axel McCarthy was second in this one with Max Harvey in third. The heats saw all three with wins with Trevor Dossett who also races Stockbikes just out of the picture.
125cc Stockbikes
Mitchell McDiarmid rode another maximum taking his four heats plus the final. Axel McCarthy was a more than worthy challenger to McDiarmid leading on several occasions. Max Harvey, Trevor Dossett and Ethan Vearing spent time chasing the two Mc's! Great racing by all!
50cc Pee Wees
The most competitive 'non-competitive' division going around! I bet they hate seeing that club flag, they just want to keep on 'racing'! A top night for the 50's with Braxton Thompson, Coby Robson, Jett Harvey, Noah Young and Jake Corbett.
Balance Bike Race
How could I not mention this? After the huge success of our Balance Bike race at our last meeting we held two during our final pre-program of the year. As a consequence the new 'Queen' of Pinjar is young (very) Alicia Phillipson who won both races on the night.
See you next season. Grant Woodhams
Quit Pinjar Park Speedway – Junior 125 Solo Lites
King of Pinjar – 24 March 2018
Rider
Total
Heat 1
Heat 2
Heat 3
Heat 4
Heat 5
Heat 6
Points
Final
Max Harvey
5
3
2
5
Xander Smith
1
0
1
1
Axle McCarthy
5
2
3
5
Trevar Dossett
1
1
0
1
Quit Pinjar Park Speedway – 125cc Solo
King of Pinjar – 24 March 2018
Rider
Total
Heat 1
Heat 2
Heat 3
Heat 4
Heat 5
Heat 6
Points
Final
Luke Killeen
13
3
2
3
3
11
2
Declan Killeen
14
2
3
3
3
11
3
Mitchell McDiarmid
10
3
2
2
2
9
1
Jack McDiarmid
8
1
3
2
2
8
Lincoln Worroll
5
2
1
1
1
5
Xander Smith
4
1
2
1
0
4
Final Rider
Points
Place
Gate
Declan Killeen
3
1
Luke Killeen
2
2
Mitchell McDiarmid
1
3
Jack McDiarmid
0
4
Lincoln Worroll
0
5
Quit Pinjar Park Speedway – 250cc Solo
King of Pinjar – 24 March 2018
Rider
Total
Heat 1
Heat 2
Heat 3
Heat 4
Heat 5
Heat 6
Points
Final
Brad Gordon
14
3
3
3
2
11
3
Ryan Philippson
11
2
2
2
3
9
2
Final Rider
Points
Place
Gate
Brad Gordon
3
1
Ryan Philippson
2
2
Quit Pinjar Park Speedway – 500cc Solo
King of Pinjar – 24 March 2018
Rider
Total
Heat 1
Heat 2
Heat 3
Heat 4
Heat 5
Heat 6
Points
Final
Daniel Winchester
15
3
3
3
3
12
3
Doug Scoble
13
3
3
3
3
12
1
Dakota Ballantyne
11
3
2
1
3
9
2
Ryan Pope
7
2
1
2
2
7
Des Heys
6
2
1
1
2
6
Jarryd Ziedas
5
1
2
F
2
5
0
Jack Hunter
5
2
3
0
0
5
Kobee Ziedas
3
0
2
0
1
3
Carley Gittus
1
0
DNF
DNF
1
1
Brian Miller
1
1
0
0
0
1
Last Chance Qualifier
Ryan Pope
Des Heys
Jarryd Ziedas
Thru
Kobee Ziedas
Final
Daniel Winchester
1
Doug Scoble
3
Jarryd Ziedas
4
Dakota Ballantyne
2
Quit Pinjar Park Speedway – Sidecars (Juniors)
King of Pinjar – 24 March 2018
Rider
Total
Heat 1
Heat 2
Heat 3
Heat 4
Heat 5
Heat 6
Points
Final
Jack Fewster / Adam Fewster
10
2
3
2
DNF
7
3
Jake Harvey / Tylar Solomon
9
3
1
3
DNF
7
2
Keenan Murphy / Josh McQuade
8
1
2
1
3
7
1
Quit Pinjar Park Speedway – Sidecars (Seniors)
King of Pinjar – 24 March 2018
Rider
Total
Heat 1
Heat 2
Heat 3
Heat 4
Heat 5
Heat 6
Points
Final
Scott Charsley / Morgan Cornwell
12
3
3
3
1
10
2
Clayton Mills / Jesse Thomas
8
3
2
3
X
8
Josh Wells / Corey Blackman
8
3
3
2
X
8
0
Ryan and Adam Fanderlinden
9
2
3
DNS
3
8
1
Chad Harvey / Jamie Thomson
6
2
2
2
X
6
Greg Chiplin / David Mercer
6
2
DNF
3
1
6
Ronald Hankin / Andy Gajek
5
1
2
EX
2
5
Horrie Payne / Clinton Holmwood
0
DNS
DNS
DNS
DNS
0
Rocky Bryan / Matt Young
0
DNS
DNS
DNS
DNS
0
Final Rider
Points
Place
Gate
Scott Charsley / Morgan Cornwell
2
2
Josh Wells / Corey Blackman
0
DNS
Ryan and Adam Fanderlinden
3
1