SOLOS: Winchester and Killeen dominate:
Two of last season's star performers Daniel Winchester 500cc's and Luke Killeen 125cc's turned it on in great style to begin the season. Both went through the night undefeated to make the best possible start to their summer campaigns.
Winchester a two time State Champion was in spectacular form and utilised his great gating ability to best effect. It didn't matter where Dan started from, even electing to run from gate four in the Final. His toughest opposition was provided by Kobee Ziedas, Ryan Pope and Des Heys who joined him in the Final. All three rode well through the evening. However in the final Winchester proved too strong and was content to run half track high through the four laps to take a popular and well deserved victory.
While Winchester was seemingly doing as he pleased there was also plenty of interest in the debut of Brad Gordon, up from the 125's and 250's of last season. Brad's best result on the night was a second although he also had a moment when he and Pinjar newcomer Jason Marzoli fell in Heat Five.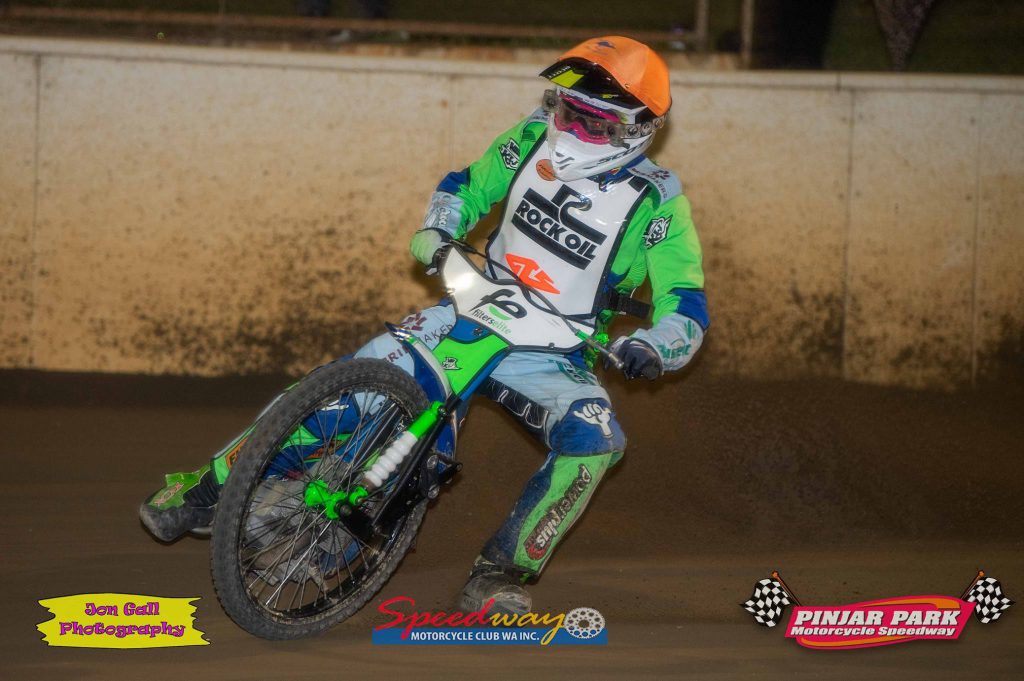 Marzoli's best placing was in Heat Nine where he finished second. Another rider we haven't seen at Pinjar Park is Kris Keast. Keast settled in very quickly and took out Heat Nine. Jarred Ziedas had a night he'd prefer to forget after a couple of falls while Drew Winchester grabbed a pair of thirds.
In the 125cc's Luke Killeen continued his winning ways. He won this event last year and on Saturday night showed he will again be the one to beat in his division. His missed the start on a couple of occasions but was still good enough to find his way to the front. He has some classy opposition in the McDiarmid brothers Jack and Mitchell who are set to make Killeen work hard, along with Xander Smith who looks set for a good season.
Ryan Phillipson had the better of Lincoln Worroll in their 250cc battles taking all five races on offer, while the Thumpster's saw Axle McCarthy top score on the night with two wins. Tyler Magden and Darcy Timmis were also prominent. Meanwhile in the 125 Lights, Max Harvey and McCarthy shared the wins with two apiece. Darcy Timmis also ran in the 125 Lights along with Jake Corbett and Trevor Dossett.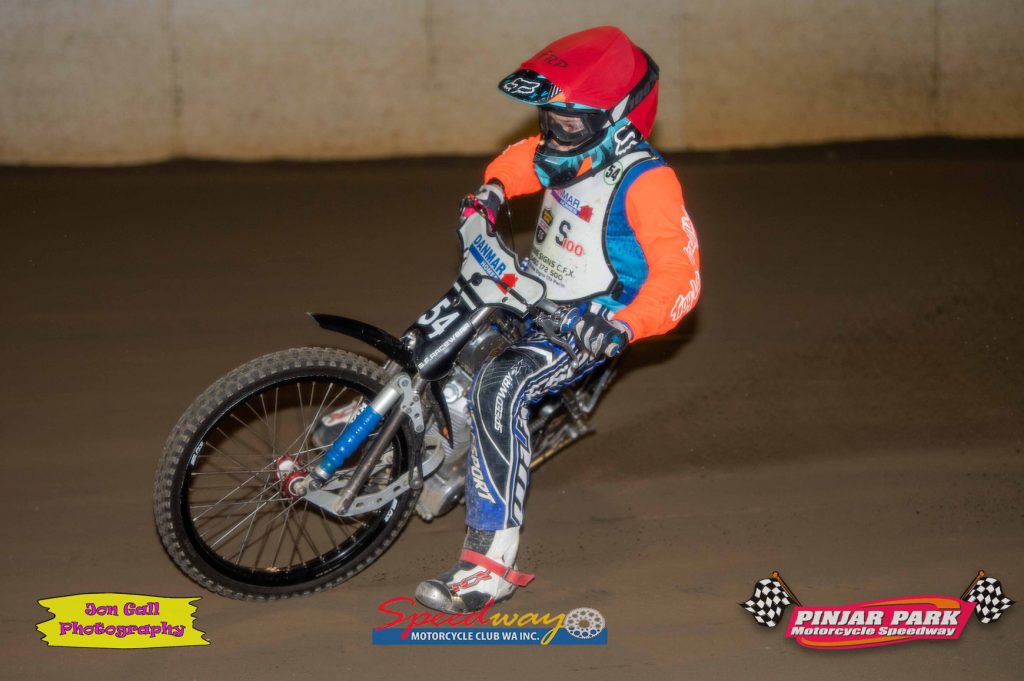 SIDECARS: Mitchell/Bailey and the Fewster's too good on the night:
A small but very competitive field of senior and junior sidecars fronted for their four heats and final. In senior racing the combination of Chad Harvey/Nathan Metcalf top scored after a couple of great battles with former Australian and WA Champion Russell Mitchell who had a new passenger in Tanya Bailey swinging for him. However in the final Mitchell and Bailey blasted around the outside to secure the win. Bailey was an Olympian in BMX and is no stranger to racing, but it was her first time on a sidecar. Everyone's favourite Horrie Payne teamed up with Matt Reece but unfortunately #17 had engine problems through most of the night.
Meanwhile in the Junior 250cc division Australian Champions Jack and Adam Fewster had the perfect start to their season going through the night winning all four heats and the final. Jake Harvey with his new passenger Marley Karafil will take great confidence from their night. A few more rides under their belts will improve them immensely.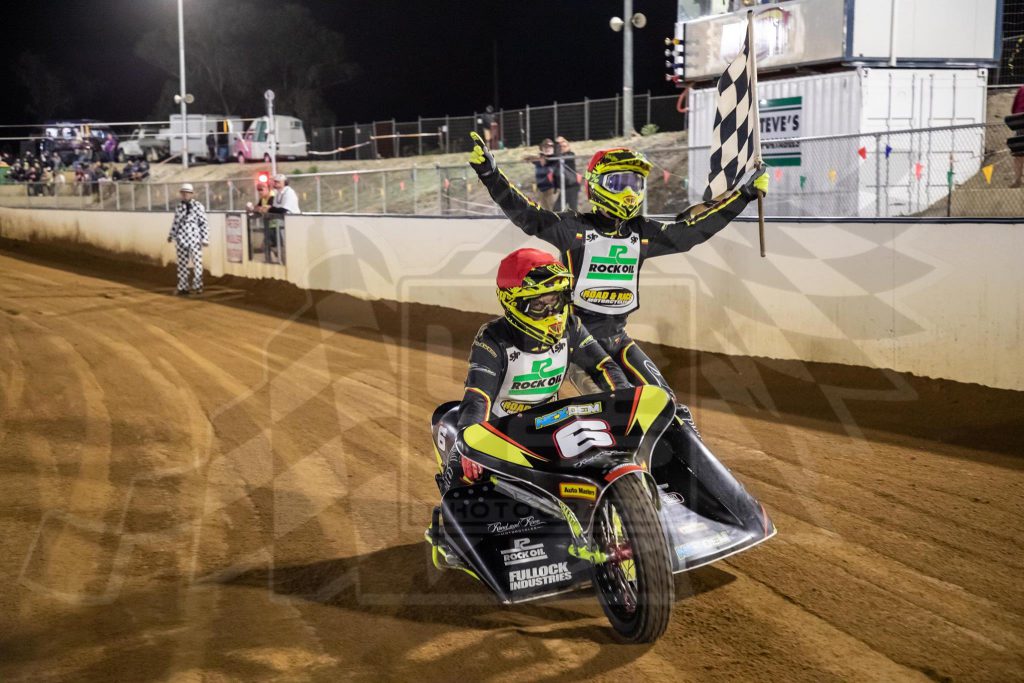 .
Pinjar Park Motorcycle Speedway – 125cc Solo
Riders – 125cc
Total
Heat 1
Heat 2
Heat 3
Heat 4
Heat 5
Heat 6
Points
Final
Luke Killeen
15
3
3
3
3
12
3
Jack McDiarmid
9
2
2
2
1
7
2
Mitchell McDiarmid
6
1
1
1
2
5
1
Xander Smith
0
0
0
0
EX
0
Axle McCarthy
0
0
0
0
0
0
125cc Final
Points
Place
Gate
Luke Killeen
3
1
Jack McDiarmid
2
2
Mitchell McDiarmid
1
3
Xander Smith
4
0
Pinjar Park Motorcycle Speedway – 250cc Solo
Chum Taylor & Dennis Nash Foundation Cup – 20 October 2018
Riders – 250cc
Total
Heat 1
Heat 2
Heat 3
Heat 4
Heat 5
Heat 6
Points
Final
Ryan Philippson
15
3
3
3
3
12
3
Lincoln Worroll
#VALUE!
2
2
F
2
 
6
F
250cc Final
Points
Place
Gate
Ryan Philippson
3
1
Lincoln Worroll
F
Pinjar Park Motorcycle Speedway – 500cc Solo
Chum Taylor & Dennis Nash Foundation Cup – 20 October 2018
Riders – 500cc
Total
Heat 1
Heat 2
Heat 3
Heat 4
Heat 5
Heat 6
Points
Final
Daniel Winchester
15
3
3
3
3
12
3
Des Heys
10
3
2
1
3
9
1
Kobee Ziedas
11
2
3
2
2
9
2
Ryan Pope
8
1
2
3
2
8
0
Brad Gordon
4
2
1
F
1
4
Jason Marzoli
3
0
0
1
2
3
Jarryd Ziedas
3
F
1
2
0
3
Kris Keist
3
0
0
0
3
3
Drew Winchester
1
0
0
0
1
1
500cc Final
Points
Place
Gate
Des Heys
1
3
Kobee Ziedas
2
2
Ryan Pope
4
0
Daniel Winchester
3
1
Pinjar Park Motorcycle Speedway – Sidecars (Juniors)
Chum Taylor & Dennis Nash Foundation Cup – 20 October 2018
Riders – Junior Sidecars
Total
Heat 1
Heat 2
Heat 3
Heat 4
Heat 5
Heat 6
Points
Final
Jake Fewster / Adam Fewster
15
3
3
3
3
12
3
Jake Harvey / Marley Karafil
10
2
2
2
2
8
2
Junior Sidecar Final
Points
Place
Gate
Jake Harvey / Marley Karafil
2
2
Jake Fewster / Adam Fewster
3
1
Pinjar Park Motorcycle Speedway – Sidecars (Seniors)
Chum Taylor & Dennis Nash Foundation Cup – 20 October 2018
Riders – Senior Sidecars
Total
Heat 1
Heat 2
Heat 3
Heat 4
Heat 5
Heat 6
Points
Final
Chad Harvey / Nathan Metcalf
12
2
3
2
3
10
2
Russell Mitchell / Tania Bailey
12
3
3
3
EX
9
3
Horrie Payne /  Robert Thompson
0
NS
NS
EX
DNF
0
Senior Sidecar Final
Points
Place
Gate
Chad Harvey / Nathan Metcalf
2
2
Russell Mitchell / Tania Bailey
3
1