WILLIS & THOMAS TAKE WA SIDECAR CHAMPIONSHIP
It was a history making occasion for sidecars at Pinjar Park at our last meeting that produced one of the closest finishes ever seen in the WA Sidecar Championships. Brad Willis/Jesse Thomas came from third to first in the last lap of the Final to score a fabulous win in what had been a very entertaining and often totally unpredictable night of racing.
None of the eight teams contesting the championship had won a title before, the absence of defending Champion Russell Mitchell opening up the way for a new team to be crowned WA1. Amazingly two of the rider/passenger teams had never raced together prior to the meeting. This did not stop Scott Charsley who teamed up with Morgan Cornwell from going through their four heats undefeated. Neither did it stop first season racer Chad Harvey who teamed up with Jamie Thomson racing to three of four wins in qualifying. And just for good measure Brad Willis who was racing Clayton Mills sidecar had only one meeting under his belt with Mills' partner Jesse Thomas. Willis/Thomas like Harvey/Thomson won three of their four qualifiers.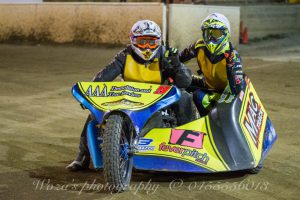 In another twist Willis/Thomas and Harvey/Thomson decided to toss a coin to see who would join Charsley/Cornwall in the Final. Harvey/Thomson won the toss which meant that Willis/Thomas met Ron Hankin/Scott Moffatt and brothers Ryan & Adam Fanderlinden in the Last Chance Qualifier. Willis/Thomas duly won.
With Charsley/Cornwell out of position one it would have taken a brave punter to suggest that Charsley/Cornwell wouldn't win unless they missed the start. They grabbed a beautiful start followed in order by Harvey/Thomson and Willis/Thomas. One circuit, two circuits, three circuits down and the order remains unchanged but Charsley/Cornwell are getting higher on the track with each lap and on the final charge down the back straight Harvey/Thomson blast underneath followed by Willis/Thomas. Out of turn four it is a traffic jam with all three outfits bunched together. Harvey/Thomson give a little ground heading to the chequers enough for Brad Willis & Jesse Thomas to squeeze by. The crowd goes mad, it was a great race. Brad Willis, third in 1983/84, third in 1995/96. First with his passenger Jesse Thomas in 2017/18. A race worth waiting for!
Earlier in the night Horrie Payne and passenger Clinton Holmwood took a nasty tumble on the back straight when they got a handful of throttle and the machine shot out from under them. Both were OK but the sidecar was damaged and they were unable to take any further part in the meeting.
RESULTS (All heats 4 laps)
Heat One: Harvey/Thomson, Cain/O'Bryan, Hankin/Moffat
Heat Two: Willis/Thomas, Payne/Holmwood dnf – fell
Heat Three: Charsley/Cornwell, Bryan/Young, Fanderlinden Bros
Heat Four: Harvey/Thomson, Bryan/Young excluded, Payne/Holmwood dns
Heat Five: Willis/Thomas, Hankin/Moffat, Fanderlinden Bros dnf
Heat Six: Charsley/Cornwell, Cain/O'Bryan
Heat Seven: Willis/Thomas, Bryan/Young excluded
Heat Eight: Charsley/Cornwell, Harvey/Thomson/, Cain/O'Bryan excluded
Heat Nine: Fanderlinden Bros, Hankin/Moffat, Payne/Holmwood dns
Heat Ten: Charsley/Cornwell, Fanderlinden Bros
Heat Eleven: Harvey/Thomson, Hankin/Moffat, Payne/Holmwood dns
Heat Twelve: Bryan/Young, Willis/Thomas, Cain/OBryan
Last Chance Qualifier: Willis/Thomas, Hankin/Moffat, Fanderlinden Bros excluded
Final: Brad Willis/ Jesse Thomas, Chad Harvey/Jamie Thomson, Scott Charsley/Morgan Cornwell
LUKE KILLEEN DOMINATES GORDON ROWLAND MEMORIAL
Diminutive Luke Killeen rode a maximum showing why he is the form rider of the 125cc Solos at the moment. And in winning the Final added his name to the impressive list that sits on the Gordon Rowland Memorial Shield which has a history going back to 1982.
Interestingly in the field on the night were three previous winners of the Gordon Rowland including last year's winner Declan Killeen, Luke's older brother, along with former shield holders Brad Gordon and Chris Bogdan. A field of eight set to contest the event.
The Final was packed with tension with Luke Killeen out of gate position one. In the first attempt to get the field underway Declan Killeen was judged to have brought Brad Gordon down on the first lap and was excluded from the re-run which saw Luke Killeen grab an early lead which was never challenged. Gordon and Bogdan chased in second and third but couldn't get close enough to challenge for the win.
RESULTS (All Four Laps)
Heat One: B Gordon, M McDiarmid, L Worroll, X Smith –dns.
Heat Two: L Killeen, D Killeen, J McDiarmid, C Bogdan
Heat Three: L Killeen, L Worroll, D Killeen excluded, X Smith – dns
Heat Four:C Bogdan, B Gordon, J McDiarmid, M McDiarmid
Heat Five: D Killeen, C Bogdan, J McDiarmid, X Smith – dns
Heat Six: L Killeen, B Gordon, M McDiarmid, L Worroll
Heat Seven: L Killeen, L Worroll, M McDiarmid –fell, X Smith – dns
Heat Eight: D Killeen, C Bogdan, B Gordon, J McDiarmid – excluded
FINAL: L Killeen, B Gordon, C Bogdan, D Killeen – excluded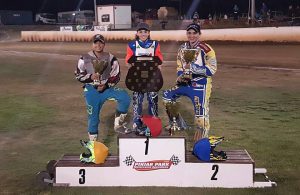 SENIOR SOLOS
Five Senior Solo races plus a final were conducted with five Pinjar Park regulars including Jason Bishop, Carley Gittus, Ryan Pope, Daniel Winchester and Kobee Zeidas. As expected Daniel Winchester had a perfect night winning all heats and the Final. In the one heat that Winchester didn't contest Jason Bishop emerged victorious. Qualifiers for the Final were Winchester, Bishop and Pope with the improving Pope finishing ahead of Bishop in this race.
250 cc SIDECARS
Another crowd loving performance from three evenly matched teams produced the usual heart in the mouth no holds barred racing that we have come to expect. Wins were shared around with all teams scoring a win in the qualifying heats in the lead up to their Final. Jake Harvey and Tylar Solomon who have returned to their best form proved too good over Keenan Murphy/Josh McQuade with the Fewster Bros Jack and Adam being excluded for running on the infield.
250cc SOLOS
It was a reasonably lonely night for Ryan Phillipson who ran mostly on his own but had Lincoln Worroll for company on at least two occasions. It'd be good to see a few more in the 250's. Hats off to Ryan though, he ran hard all night.
125cc LITES
Axel McCarthy had a good night on the 125L's winning the Final and having a good run through the Pre-Program. Second in the 125L's was Trevor Dossett with Max Harvey in third and Darcey Timmis in fourth. Xander Smith fell heavily in the first heat of the 125cc Lites and retired for the rest of the night.
125cc STOCKBIKES
Mitchell McDiarmid was again the rider to beat and he swept all heats and the Final. Others prominent in racing included Axel McCarthy, Max Harvey, Trevor Dossett, Darcey Timmis, Lachie O'Bryan and Tyler Madgen. It would help the commentary team and the general public if these riders appeared in the helmet colours listed in the program.
50cc BIKES
Plenty of spirited training by the likes of Noah Young, Jett Harvey, Ryder Boland, Ethan Vearing, Coby Robson and Jake Corbett. Sometimes there are more riders on the track than are listed in the program. If you want a mention you better let our commentary team know you're out there!
CHEERS
Grant.
Quit Pinjar Park Speedway – 125cc Stock Bikes
WA Sidecar State Title and Gordon Rowlands Memorial – 10 March 2018
Rider
Total
Heat 1
Heat 2
Heat 3
Heat 4
Heat 5
Heat 6
Points
Final
Axle McCarthy
9
2
2
3
2
9
Mitchell McDiarmid
9
3
3
0
3
9
Lochie O'Brien
5
1
1
2
1
5
Trevar Dossett
1
0
0
1
0
1
Max Harvey
0
0
0
0
0
0
Darcey Timmis
0
0
0
0
0
0
Tyler Madgen
0
0
0
0
0
0
Quit Pinjar Park Speedway – 125cc Solo
WA Sidecar State Title and Gordon Rowlands Memorial – 10 March 2018
Rider
Total
Heat 1
Heat 2
Heat 3
Heat 4
Heat 5
Heat 6
Points
Final
Luke Killeen
15
3
3
3
3
12
3
Brad Gordon
10
3
2
2
1
8
2
Declan Killeen
8
2
EX
3
3
8
0
Christopher Bogdan
8
0
3
2
2
7
1
Lincoln Worroll
5
1
2
0
2
5
Mitchell McDiarmid
3
2
0
1
EX
3
Jack McDiarmid
3
1
1
1
EX
3
Xander Smith
0
DNS
DNS
DNS
DNS
0
FINAL Rider
Points
Place
Gate
Luke Killeen
3
1st
Brad Gordon
2
2nd
Declan Killeen
EX
0
Chris Bogdan
1
3rd
Quit Pinjar Park Speedway – 250cc Solo
WA Sidecar State Title and Gordon Rowlands Memorial – 10 March 2018
Rider
Total
Heat 1
Heat 2
Heat 3
Heat 4
Heat 5
Heat 6
Points
Final
Ryan Phillipson
12
3
3
3
3
12
Lincoln Worroll
2
2
DNS
DNS
DNS
2
Chris Bogdan
0
DNS
DNS
DNS
DNS
0
Quit Pinjar Park Speedway – 500cc Solo
WA Sidecar State Title and Gordon Rowlands Memorial – 10 March 2018
Rider
Total
Heat 1
Heat 2
Heat 3
Heat 4
Heat 5
Heat 6
Points
Final
Daniel Winchester
15
3
3
3
3
12
3
Ryan Pope
9
1
2
2
2
7
2
Jason Bishop
8
1
2
3
1
7
1
Carley Gittus
4
0
DNF
1
3
4
Kobee Ziedas
3
2
0
0
1
3
Quit Pinjar Park Speedway – Sidecars (Juniors)
WA Sidecar State Title and Gordon Rowlands Memorial – 10 March 2018
Rider
Total
Heat 1
Heat 2
Heat 3
Heat 4
Heat 5
Heat 6
Points
Final
Jake Harvey / Tylar Solomon
13
3
2
3
2
10
3
Jack Fewster / Adam Fewster
10
2
3
2
1
8
2
Keenan Murphy / Josh McQuade
7
1
1
1
3
6
1
Rider
Points
Place
Gate
Jake Harvey / Tylar Solomon
3
1st
Jack Fewster / Adam Fewster
1
3rd
Keenan Murphy / Josh McQuade
2
2nd
Quit Pinjar Park Speedway – Sidecars (Seniors)
WA Sidecar State Title and Gordon Rowlands Memorial – 10 March 2018
Rider
Total
Heat 1
Heat 2
Heat 3
Heat 4
Heat 5
Heat 6
Points
Final
Brad Willis / Jesse Thomas
14
3
3
3
2
11
3
Chad Harvey / Nathan Metcalf
13
3
3
2
3
11
2
Scott Charsley / Matt Reece
13
3
3
3
3
12
1
Ronald Hankin / Scott Moffatt
7
1
2
2
2
7
Ryan and Adam Fanderlinden
6
1
EX
3
2
6
Ricky Cain / Joshua O'Bryan
5
2
2
EX
1
5
Rocky Bryan / Matt Young
2
2
EX
DNF
0
2
Adam Wenn / Morgan Cornwell
0
DNS
DNS
DNS
DNS
0
Horrie Payne / Clinton Holmwood
0
DNF
DNS
DNS
0
0
Last Chance Qualifyer
Chad Harvey / Nathan Metcalf
Ronald Hankin / Scott Moffatt
Ryan and Adam Fanderlinden
FINAL Rider
Points
Place
Gate
Scott Charsley / Matt Reece
1
3rd
Chad Harvey / Nathan Metcalf
2
2nd
Brad Willis / Jesse Thomas
3
1st