PINJAR PARK WRITE UP – Saturday 14th December 2019
Tai Woffinden, the boy who grew up in Western Australia to win three World Titles returned to Pinjar Park to defend the race named in honour of his late father, the Rob Woffinden Classic, and didn't put a foot wrong all night.
He was imperious in winning his four heats and then dominated the Final. Others to impress on the night included fellow Englishmen Drew Kemp, Jack Smith and Leon Flint.
Locals Dan Winchester, Doug Scoble, Kale Ballantyne and Frank Smart were also in the mix but it was Tai Woffinden who the big crowd came to watch.
Woffinden who elected to run out of gate three in the Final was superb. It was a treat to watch him run the still very new WA venue. Earlier he had recorded the best time on the night with 60.08 secs for the four-lap journey. The fastest ever around the venue.
The B Final was a race of drama when both Smith and Ballantyne fell, but both were OK and the referee decided to allow Jack and Kale to contest the re-run.
Sidecar racing was of a high standard with former Australian and WA Champion Russell Mitchell winning the program. Along with passenger Morgan Cornwall he won his four qualifying heats and was too good in the final.
Earlier in the night Chromie Holmwood had fallen from the side of the Boujos sidecar during a first corner collision. Tough as chrome he re-joined his partner to take third in the Final.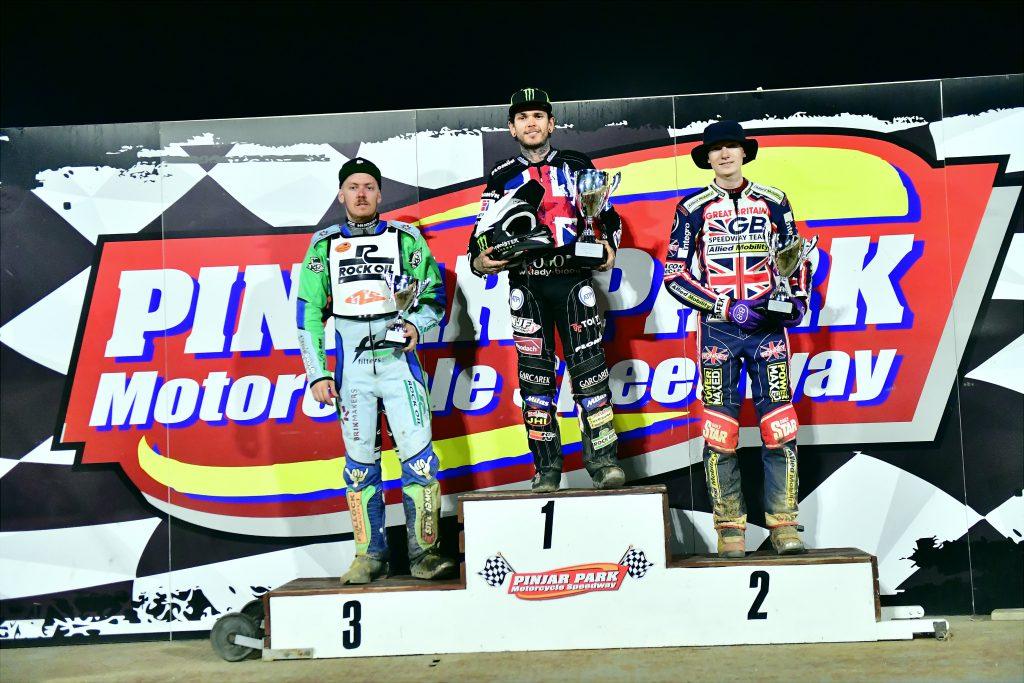 500cc Solo – Rob Woffinden Classic
Rider
Total
Heat 1
Heat 2
Heat 3
Heat 4
Points
Final
500cc SOLO
TOTAL
A FINAL
GATE
FINISH
Tai Woffinden
15
3
3
3
3
12
3
Tai Woffinden
15
Tai Woffinden
1st
Drew Kemp
13
3
3
3
2
11
2
Drew Kemp
13
Drew Kemp
2nd
Daniel Winchester
12
2
3
3
3
11
1
Daniel Winchester
12
Daniel Winchester
3rd
Jack Smith
10
3
2
2
3
10
Jack Smith
10
Frank Smart
4th
Frank Smart
8
2
3
F
3
8
0
Frank Smart
8
Doug Scoble
9
2
2
3
2
9
Doug Scoble
9
Kale Ballantyne
9
1
3
3
2
9
Kale Ballantyne
9
B FINAL
GATE
FINISH
Leon Flint
8
3
1
1
3
8
Leon Flint
8
Jack Smith
B
Brad Gordon
7
2
2
2
1
7
Brad Gordon
7
Frank Smart
W
Winner
Kobee Ziedas
5
1
1
2
1
5
Kobee Ziedas
5
Doug Scoble
Y
Declan Killeen
5
1
2
1
1
5
Declan Killeen
5
Kale Ballantyne
R
Bryan Miller
4
2
0
2
0
4
Bryan Miller
4
Jarryd Ziedas
3
DNF
1
2
0
3
Jarryd Ziedas
3
Matt Marson
3
F
0
2
1
3
Matt Marson
3
Ryan Pope
3
0
2
0
1
3
Ryan Pope
3
Jason Marzoli
2
1
0
DNS
1
2
Jason Marzoli
2
Drew Winchester
2
0
1
1
0
2
Drew Winchester
2
Jack Hunter
0
0
DNF
0
DNS
0
Jack Hunter
0
1000cc Sidecars – Rob Woffinden Classic
Rider
Total
Heat 1
Heat 2
Heat 3
Heat 4
Points
Final
1000cc SIDECARS
TOTAL
A FINAL
GATE
FINISH
Mitchell / Cornwell
15
3
3
3
3
12
3
Mitchell / Cornwell
15
Mitchell / Cornwell
R
1st
Liptrott / Thomas
10
2
2
3
3
10
Liptrott / Thomas
10
Liptrott / Thomas
B
Ex
Harvey / Thomas
12
3
3
2
2
10
2
Harvey / Thomas
12
Harvey / Thomas
W
2nd
Charsley / Reece
7.5
2
1
2.5
2
7.5
Charsley / Reece
7.5
Boujos / Holmwood
Y
3rd
Milton / O'Bryan
7
2
2
2
1
7
Milton / O'Bryan
7
Boujos / Holmwood
8
1
3
1
2
7
1
Boujos / Holmwood
8
B FINAL
GATE
FINISH
Fanderlinden / Fanderlinden
6.5
3
0
2.5
1
6.5
Fanderlinden / Fanderlinden
6.5
Charsley / Reece
Sita / Jonah
4
1
2
1
DNF
4
Sita / Jonah
4
Milton / O'Bryan
Bishop / Winchester
3
0
0
0
3
3
Bishop / Winchester
3
Boujos / Holmwood
Winner
Hankin / Hesling
2
0
1
0
1
2
Hankin / Hesling
2
Fanderlinden / Fanderlinden
Bryan / Mercer
2
DNF
1
1
DNF
2
Bryan / Mercer
2
Scoble / Furfaro
1
1
0
0
0
1
Scoble / Furfaro
1
250cc Sidecars – Rob Woffinden Classic
Rider
Total
Heat 1
Heat 2
Heat 3
Heat 4
Points
Final
FINAL
GATE
FINISH
Harvey / Soloman
15
3
3
3
3
12
3
Harvey / Soloman
R
1st
Fewster / Grigson
10
2
2
2
2
8
2
Fewster / Grigson
B
2nd
125cc Solos – Rob Woffinden Classic
Rider
Total
Heat 1
Heat 2
Heat 3
Heat 4
Points
Final
125cc SOLO
TOTAL
A FINAL
GATE
FINISH
Luke Killeen
9
3
3
6
3
Luke Killeen
9
Luke Killeen
1st
Xander Smith
6
3
3
6
0
Xander Smith
6
Xander Smith
4th
Mitchell McDiarmid
7
3
2
5
2
Mitchell McDiarmid
7
Mitchell McDiarmid
2nd
Jack McDiarmid
6
2
3
5
1
Jack McDiarmid
6
Jack McDiarmid
3rd
Max Harvey
4
2
2
4
Max Harvey
4
Darcey Timmis
4
1
3
4
Darcey Timmis
4
Colby Mason
3
3
F
3
Colby Mason
3
Trevar Dossett
3
1
2
3
Trevar Dossett
3
B FINAL
GATE
FINISH
Tyler Madgen
3
2
1
3
Tyler Madgen
3
Jack McDiarmid
Winner
Regan Dossett
2
1
1
2
Regan Dossett
2
Max Harvey
Alex Prall
2
EX
2
2
Alex Prall
2
Darcey Timmis
Jake Corbett
1
1
0
1
Jake Corbett
1
Colby Mason
Jett Harvey
1
0
1
1
Jett Harvey
1
Hunter Mason
0
F
0
0
Hunter Mason
0
250cc Solos – Rob Woffinden Classic
Rider
Total
Heat 1
Heat 2
Heat 3
Heat 4
Points
Final
FINAL
GATE
FINISH
Luke Killeen
12
3
3
3
3
12
Luke Killeen
DNS
Jack McDiarmid
8
2
2
2
2
8
Jack McDiarmid
DNF
110cc – Rob Woffinden Classic
Rider
Total
Heat 1
Heat 2
Heat 3
Heat 4
Points
Final
FINAL
GATE
FINISH
Cody Prime
0
0
Cody Prime
Tyler Madgen
0
0
Tyler Madgen
0
0
0
 
50cc Pee Wee – Rob Woffinden Classic
Rider
Total
Heat 1
Heat 2
Heat 3
Heat 4
Points
Final
Noah Sandilands
0
0
Mason Moffat
0
0
Mason Robins
0
0
Coby Robson
0
0
Pace Sturmfels
0
0
Dominick Colmore
0
0