In a rare day time meeting that had been postponed from its original March date, because of Covid19, "Comeback King" Steve Johnston dominated solo riding at the final meeting of the season at Pinjar Park.
He won his four qualifying heats before winning the Final in great style from Matt Marson and Kobee Ziedas. Bryan Miller fell and was unable to complete the journey.
There was plenty of action on the Solo programme with Jarryd Ziedas taking a nasty tumble while leading his first heat. Jarryd damaged a thumb and was unable to continue racing.
While Johnston was busy winning his four heats other wins went to Matt Marson (3) and Jack Hunter-Mertens (1).
Senior Sidecar racing saw some wonderful battles before former Australian and Western Australian Champion Russell Mitchell with his passenger Morgan Cornwall emerged as victors in the Final.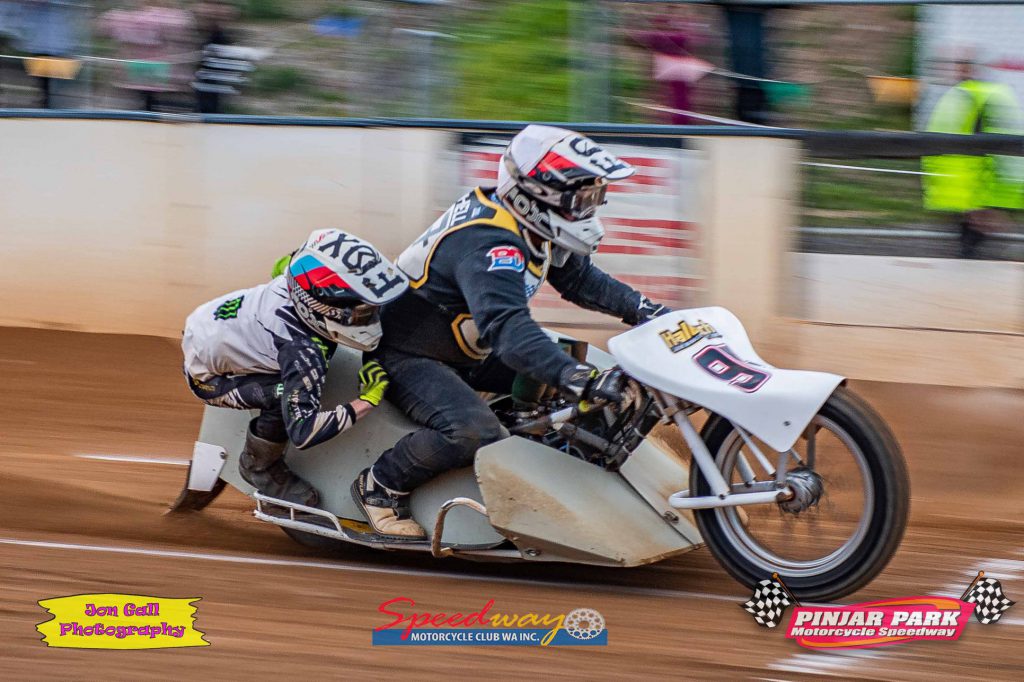 They had an absorbing race with Reece Liptrott/Jesse Thomas with current Australian Junior Champion Jack Fewster and his passenger Steve McQueen finishing third. Rock Bryan/David Mercer finished fourth.
An outstanding set of qualifying races saw Jack Fewster/Steve McQueen set to go through to the Final undefeated. Unfortunately, McQueen took a tumble from the side of their machine and while Fewster crossed the line first, the team was disqualified. While Fewster/McQueen's three wins were very impressive they were equaled on the afternoon by Reece Liptrott/Jesse Thomas who also won three. The other two heats went to Mitchell/Cornwall and Bryan/Mercer.
250cc racing saw limited numbers racing with Jack McDiarmid winning his five rides including the final over Lincoln Worroll. Worroll is heading to 500cc ranks next season.
125cc's had good numbers with Mitchell McDiarmid the form rider on the day. He won the Final with the much improved Xander Smith in second ahead of Phoenix Elliott. McDiarmid didn't have it all his own way though. Other heat winners on the day included Trevar Dossett (2), Colby Mason, Regan Dossett, Lincoln Metcalf and Alex Prall.
Adam Fewster/Thomas Grigson were the only Junior sidecars to make an appearance. As fourteen-year old's they were able to run on the big track and their best four laps was an unofficial 72.75 secs.
Flat trackers were also on the programme. Brandon Coombe winning four heats and the Final. Coombe's best opposition came from Mick Godbold, Raymond Coleman and Luke Manera.
Three 50cc PeeWee's made the most of the opportunities provided with Ollie Corbett debuting alongside the more experienced Pace Sturmfels and Mason Robins.
110's had some great scraps with Phoenix Elliott proving the rider to beat. Pace Sturmfels, Coby Robson and Mason Robins also gave a great account of themselves here.
Scores:
Under 16 125cc: Trevar Dossett 10, Mitchell McDiarmid 8, Xander Smith 5, Phoenix Elliott 5, Colby Mason 5, Hunter Mason 4, Regan Dossett 3, Lincoln Metcalf 3, Alex Prall 3, Jake Corbett 1
A Final: Mitchell McDiarmid, Xander Smith, Phoenix Elliott, Trevar Dossett 42.42 secs.
Under 16 250cc: Jack McDiarmid 12, Lincoln Worroll 8
A Final: Jack McDiarmid, Worroll fell. 71.07 secs.
500cc Solos: Steve Johnston 12, Matt Marson 9, Kobee Ziedas 6, Jason Marzoli 5, Declan Killeen 5, Jack Hunter-Mertens 4, Brad Gordon 4, Bryan Miller 4, Jarryd Ziedas 0.
B Final: Bryan Miller, Jason Marzoli, Declan Killeen, Brad Gordon (fell). 65.68 secs
A Final: Steve Johnston, Matt Marson, Kobee Ziedas, Bryan Miller (fell). 62.40 secs
Senior Sidecars: Liptrott/Thomas 11, Fewster/McQueen 9, Mitchell/Cornwall 7, D Bishop/Winchester 7, Bryan/Mercer 6, Milton/Wells 3, Wenn/Moffat 2, J Bishop/Holmwood 2, M Sita/J Sita 0.
B Final: Bryan/Mercer, Wenn/Moffat, Milton/Wells, D Bishop/Winchester. 86.46 secs (5 laps)
A Final: Mitchell/Cornwall, Liptrott/Thomas, Fewster/McQueen, Bryan/Mercer. 66.36
West Coast Series – Final Points Tally 2019-20

 

 

 

 

 

 

500cc Solo

Total

Round 1

Round 2

Round 3

Round 4

Bryan Miller

37

11

8

14

4

Kobee Ziedas

18

X

11

0

7

Brad Gordon

16

X

12

X

4

Declan Killeen

16

X

X

11

5

Jason Marzoli

16

3

5

3

5

Daniel Winchester

14

X

14

X

X

Ryan Pope

12

12

X

X

0

Blake Russell

11

11

X

X

X

Louis Russell

11

11

X

X

0

Doug Scoble

6

X

6

X

X

Drew Winchester

5

X

5

X

X

Jarryd Ziedas

5

X

0

5

0

Kris Keast

2

2

X

X

0

Glenn Gordon

0

X

X

0

0

Kale Balantyne

0

X

0

X

0

1000cc Sidecars

Total

Round 1

Round 2

Round 3

Round 4

Mitchell / Cornwell

53

43

 

 

10

Liptrott / Thomas

48

35

 

 

13

Harvey / Thomson

42

42

 

 

X

Milton / O'Bryan

37

34

 

 

3

Wenn / Coggan

30

28

 

 

2

Wells / Holmwood

24

24

 

 

X

Bishop /Winchester

18

11

 

 

7

Charsley / Reece

13

13

 

 

X

Bryan /

13

7

 

 

6

Fewster / McQueen

10

 

 

 

10

Melbourne / Leigh

7

7

 

 

X

Hankin / Hesling

7

7

 

 

X

Cain / Van Keulen

4

4

 

 

X

Bishop / Holmwood

2

 

 

 

2

Scoble / Passenger

1

1

 

 

X

Sita / Sita

0

 

 

 

0