Matt 'the Master' Marson too good in Solos Slam 3
Young gun Matt Marson rode one of the best races of the summer to take the all-important win in the Solo A Final and held off both a determined Kale Ballantyne and Daniel Winchester on his way to the chequered flag. Marson led from the start of the four laps journey and was never headed. Ballantyne who earlier in the night had set quick time for the season (61.52 secs) chased hard but ran out of track in the last corner surrendering his place to Winchester. The improving Ryan Pope finished fourth on a track which was almost perfectly curated by steady but very light rain and almost still conditions times were quick. Kale Ballantyne who has only had a few rides at Pinjar this season set an unofficial time of 61.52 seconds in Heat 6. Times were consistent all night with several heat winner's recording sub 63 secs for the four laps. Marson's winning time in the final was 62.54. Marson and Ballantyne won three heats each on their way to the A Final while other heat winners included Dan Winchester, who had an uncharacteristic fall in his last heat, Blake Russell and Ryan Pope. Russell looked to have the B Final in his keeping only to fall between turns three and four.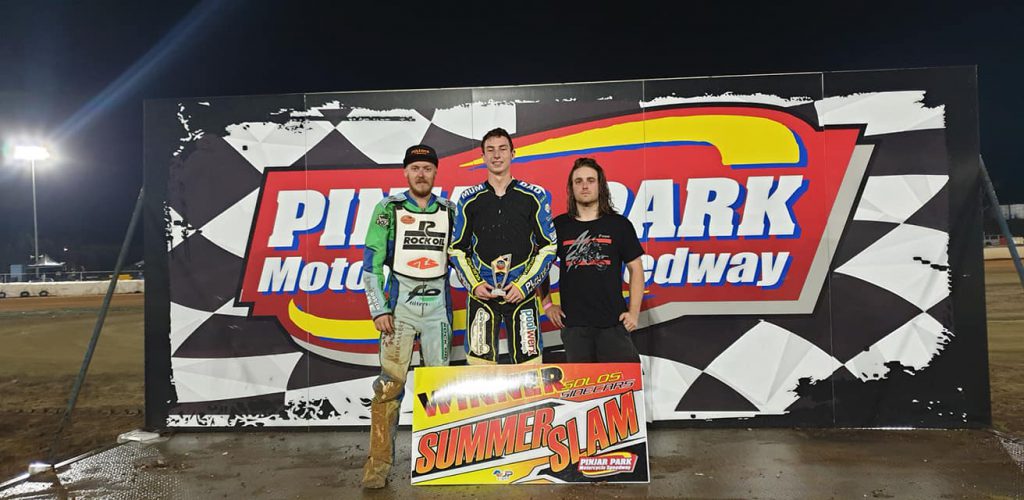 Liptrott and Thomas continue to lead the Sidecar Brigade
Like the Solos the Sidecars appreciated a brilliant racing surface and didn't disappoint with some great racing by all teams. The father and son combination of Jeff and Daniel Bishop were the top qualifiers on the night, and set fast time in Heat 2 with a 65.72. While the times are unofficial the best time for the outfits was recorded by Liptrott/Thomas at the February 16th meeting when they recorded 64.72. The Bishops won three of their four heats, Liptrott/Thomas two, while other wins went to the Fanderlinden Brothers, who were unfortunately sidelined for most of the night with engine problems, Harvey/Metcalf and Milton/O'Bryan. A couple of passenger changes on the night saw Matt Reece swinging for Scott Charsley and Morgan Cornwall swinging for Rocky Bryan.
Liptrott/Thomas got the better of the Bishops at the start of the A Final and never looked back as they headed for victory. The Bishops shook off the challenges of Harvey/Metcalf and prevailed for second. Harvey and Metcalf who'd ridden hard all night found themselves on the wrong side of the track at one point of the race and were excluded for racing on the infield elevating Charsley/Reece to third place.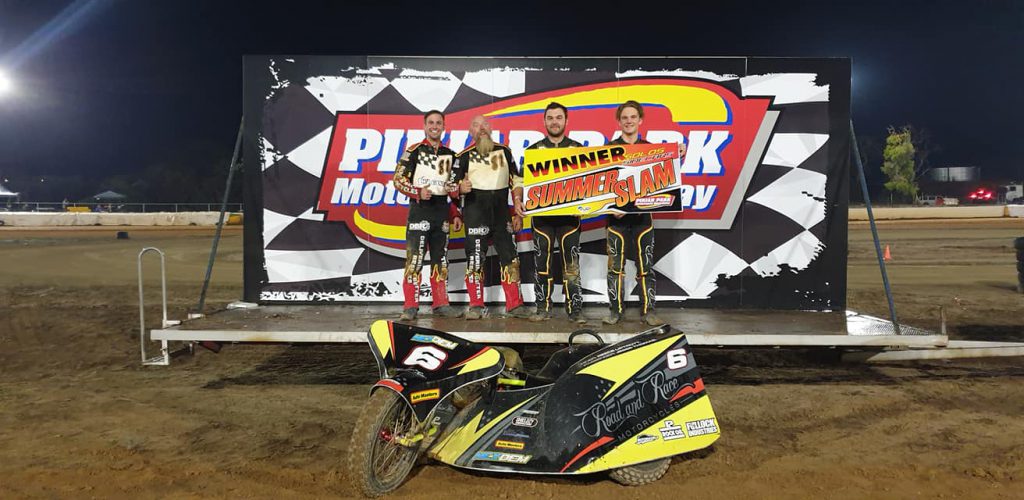 Bartlett, Boujos and Bishop – best in Dirt Trackers
 Courtesy of Jessica Boujos we had a list of riders, numbers and bike makes which was tremendous and made our job in commentary much easier. Thanks Jessica, who incidentally rode well all night on her 250 giving some of the bigger boys a lesson. Greg Bartlett was the man to beat and he was virtually unstoppable out of the gate and he had a couple of mates in Tim Boujos and Jason "Headlights On" Bishop for company. These three dominated proceedings with Bartlett winning the four qualifiers plus the Final. Others to impress on the night included Brandon Coombe, Scott Moffat, Kathryn Scoble, Ray Coleman and Deon Moore. More dirt trackers please!
Junior Jottings.
250 cc's continue to impress
The Killeen brothers, Declan and Luke again were the pick of the 250's. The boys enjoy the time on the big track and Declan was in great form taking five wins from five starts. Younger brother Luke who was also riding 125cc's on the night took five second placings, while Ryan Phillipson was close enough to the leading two but could not improve on third and along with Lincoln Worroll spent some time on the infield courtesy of dropping their models. Best time of the night was Declan Killeen's 66.50 sec, which is pretty quick when you compare it to the 500's!
250cc Sidecars
No beg pardons here as the Fewster brothers, Jack and Adam take on their long-time rivals Jake Harvey and Tylar Solomon. Nothing is taken for granted and no quarter given. The lead is swapped on regular occasions and most races decided only in the last corner. The Fewster's won the Final, but only just. Hip and shoulder is not just a football term! Best time of the night was 42.43 to the Fewster's.
125cc's put on a great show on the Junior track
The irrepressible Luke Killeen had another good night on the 125's winning his four qualifying heats before he won the Final in the best time of the night (42.92 secs – unofficial) The McDiarmid brothers, Jack and Mitchell, as always were tough opponents and had their share of the lead but Killeen found a way to win on every occasion. Xander Smith is in good company here and is running with three of the best 125cc riders in Australia!
125cc Lites Six of the best
Another good turnout by the 125 Lites with very evenly matched riders and some great racing. Wins to Linkin Metcalf, Trevor Dossett (on his 12th birthday!), Axel McCarthy and Max Harvey. Two Finals were required. Linkin Metcalf won the first over Max Harvey and Trevor Dossett, while Axel McCarthy won the second over Darcy Timmis and Jake Corbett. Some emerging talent here once they get to 125cc's proper.
Thumpsters
Most of these people can also be found racing 125cc Lites. Wins shared between Axel McCarthy and Tyler Madgen, with Axel also winning the Final. Darcy Timmis working hard for third ahead of Jake Corbett.
Peewee's
More riders than names in the program, but everyone having fun! Mason Robins had his seventh birthday on track and enjoyed his time on the Junior track with Coby Robson, Deegan Vassiliou, Regan Dossett, Jett Harvey, and new comer Pace Sturmfels.
One Lap Show Stoppers – aka Balance Bikes
Another great one lap dash by a good field on bikes that only have a frame, handlebar, seat and rider. Everyone is totally enthusiastic. From a standing start the one lap was covered in 33.58 seconds. Unofficial or not everyone had a fantastic time!
Results
Pinjar Park Motorcycle Speedway – Junior 125 Solo Lites
Summer Slam – Round 3 – 9 March 2019
Rider
Total
Heat 1
Heat 2
Heat 3
Points
Final
Linkin Metcalf
15
3
3
3
12
3
Trevar Dossett
11
3
1
3
10
1
Max Harvey
11
2
2
2
9
2
Axle McCarthy
11
1
3
2
8
3
Jake Corbett
5
2
0
1
4
1
Darcey Timmis
5
0
2
DNS
3
2
Pinjar Park Motorcycle Speedway – 125cc Solo
Rider
Total
Heat 1
Heat 2
Heat 3
Points
Final
Luke Killeen
15
3
3
3
12
3
Jack McDiarmid
9
2
2
2
7
2
Mitchell McDiarmid
5
1
1
EX
4
1
Xander Smith
0
0
0
0
0
0
FINAL Rider
Points
Place
Gate
Luke Killeen
3
1st
Jack McDiarmid
2
2nd
Mitchell McDiarmid
1
3rd
Xander Smith
0
4th
Pinjar Park Motorcycle Speedway – 250cc Solo
Rider
Total
Heat 1
Heat 2
Heat 3
Points
Final
Declan Killeen
15
3
3
3
12
3
Luke Killeen
10
2
2
2
8
2
Ryan Philippson
5
1
1
1
4
1
Lincoln Worroll
0
0
0
DNF
0
0
FINAL Rider
Points
Place
Gate
Declan Killeen
3
1st
Luke Killeen
2
2nd
Ryan Philippson
1
3rd
Lincoln Worroll
0
4th
Rider
Total
Heat 1
Heat 2
Heat 3
Points
Final
B-Final – 500's
Matt Marson
14
3
3
3
11
3
Blake Russell
Kale Ballantyne
12
3
3
2
11
1
Jarryd Ziedas
Daniel Winchester
10
2
3
3
8
2
Jason Marzoli
Blake Russell
9
3
2
1
9
Daniel Winchester
Ryan Pope
9
1
2
3
9
0
Jarry Ziedas
6
2
1
2
6
Jason Marzoli
5
1
2
2
5
A-Final – 500
Brad Gordon
4
2
DNF
DNF
4
Kale Ballantyne
Bryan Miller
3
0
1
1
3
Matt Marson
Ethan Ballantyne
3
0
1
1
3
Ryan Pope
Jason Bishop
2
EX
0
DNS
2
Dan Winchester
Drew Winchester
1
1
0
0
1
FINAL  Rider
Points
Place
Gate
Kale Ballantyne
1
3rd
Matt Marson
3
1st
Ryan Pope
0
4th
Dan Winchester
2
2nd
Rider
Total
Heat 1
Heat 2
Heat 3
Points
Final
Jack Fewster / Adam Fewster
11
EX
3
3
9
2
Jake Harvey / Tylar Solomon
12
3
2
2
9
3
FINAL Rider
Points
Place
Gate
Jack Fewster / Adam Fewster
2nd
2
Jake Harvey / Tylar Solomon
1st
3
Pinjar Park Motorcycle Speedway – Sidecars (Seniors)
Rider
Total
Heat 1
Heat 2
Heat 3
Points
Final
Dylan Milton / Josh O'Bryan
Jeff Bishop/Daniel Bishop
13
3
2
3
11
2
Leigh Boujos / Clinton Holmwood
Reece Liptrott/Jesse Thomas
13
2
3
2
10
3
Scott Charsley / Jamie Thomson
Chad Harvey / Nathan Metcalf
6
1
DNF
3
6
Rocky O'Brien / Morgan Cornwell
Dylan Milton / Josh O'Bryan
6
0
3
2
6
Leigh Boujos / Clinton Holmwood
6
2
1
1
6
A-Final – 500's
Scott Charsley / Jamie Thomson
4
1
1
0
3
1
Jeff Bishop/Daniel Bishop
Ryan Fanderlinden / Adam Fand
3
3
DNS
DNS
3
Reece Liptrott/Jesse Thomas
Rocky Bryan / Morgan Cromwell
3
0
2
1
3
Chad Harvey / Nathan Metcalf
Driver / Riley Littlefair
0
0
Scott Charsley / Jamie Thomson
FINAL Rider
Points
Place
Gate
Jeff Bishop / Daniel Bishop
2
2nd
Reece Liptrott / Jesse Thomas
3
1st
Chad Harvey / Nathan Metcalf
EX
Scott Charsley / Jamie Thomson
1
3rd
.