Visiting UK Solo rider Josh Bailey and returning sidecar duo Darren Nash/Peter Teale put their name in the record books with historic wins at the first meeting to be held at the new Pinjar Park venue.
SENIOR SOLOS: Josh Bailey had an undefeated night turning his four heat wins into an all the way win in the Solo Final. He met some heavy opposition on the way to victory particularly in the shape of Daniel Winchester, who like Bailey, was undefeated in heat racing. It was great to have Frank Smart back too and he looked more than capable despite a heavy fall in his second heat. Matt Marson back from his English campaign and Doug Scoble were in great form as well.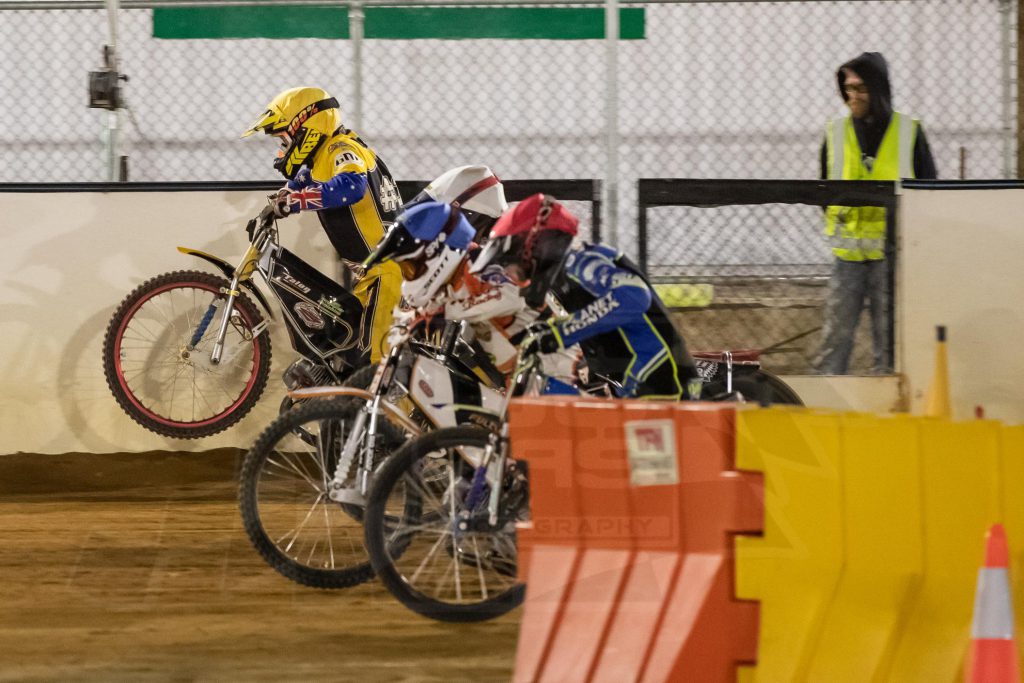 At the end of qualifying heats Bailey and Winchester were undefeated and automatic A Final qualifiers as was Scoble who had only dropped two points all night. The fourth starter would come from the B Final which featured Marson, unlucky not to be in the A, Smart, Blake Russell and Jason Marsoli. Smart was never headed and straight through to the A Final.
When the gates flew for the A Final Bailey who had elected to start out of position one had a great start and led into the first corner. Winchester decided he'd run out of position four but he didn't have the speed to get across in the corner and had to settle in behind Bailey. Smart was next and then Scoble. Bailey rode great lines and was never really challenged, while Winchester had too much for his pursuers too. A great win for Josh Bailey, let's see if he can repeat it tonight.
Novice 500cc rider Brad Gordon tested out the airfence but looked comfortable in his rides. While Drew Winchester, Des Heys, Ryan Pope, and Kris Keast were all among the points but will have to work hard to pull back Bailey, Dan Winchester and Smart.
SENIOR SIDECARS: The sidecars lived up to the great expectations we had for them on the big track with some hard and fast racing that was the undoing of several outfits. No team was able to put together an unbeaten run which meant that qualifying for the A final was very competitive. Former State and National Champ Russell Mitchell with passenger Andrew Sharpe made the show along with the Fanderlinden brothers Ryan and Adam as well as the combination of Adam Wenn and Morgan Cornwall.
But getting to the Sidecar A Final was fraught. Reece Liptrott and Jess Thomas tested out the airfence big time in their first ride while Jeff and Daniel Bishop got upside down in turn one after tangling with Clayton Mills and Scott Moffat. Daniel Bishop spent the night in hospital. With so many different winners on the night the B Final featured Darren Nash/Peter Teale who had two wins, Liptrott/Thomas who has also won two, Chad Harvey and Nathan Metcalf another pair with two wins. Odd combo out was State Champ Brad Willis/Josh O'Brien who hadn't managed a win. Nash and Teale blasted away in this one to go straight to the A.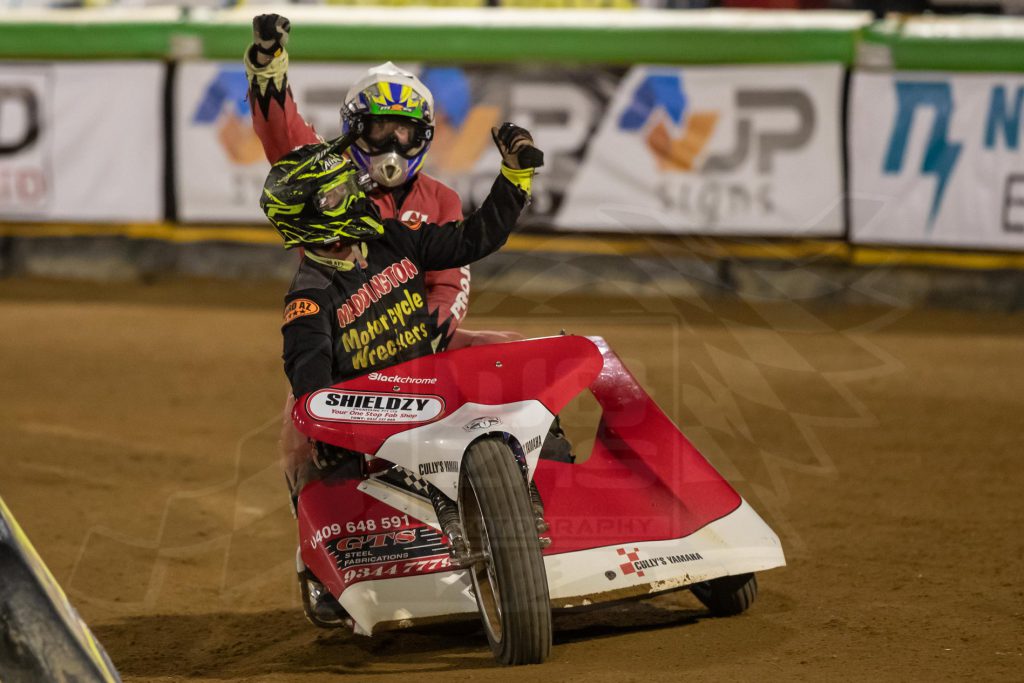 The A had it all. An immense stouch at the front of the race between Mitchell/Sharpe and Nash/Teale that had the crowd up and yelling for more. Mitchell/Sharpe had the better of the start but drifted high and allowed Nash/Teale through but Mitch and Sharpey came back and took the lead only to surrender it again. It's what we came for, a great win to Nash/Teale over Mitchell/Sharpe with the Fanderlinden brothers back in third after Morgan Cornwall had fallen off the back of Wenn's machine.
The sidecar racing was certainly spectacular with all teams incredibly competitive. Steve Scoble and daughter Gaynor had a top night. If their machinery hadn't let them down they may have gone straight to the A. Horrie Payne and Matt Reese had a few engine issues too, which made a big difference in such a competitive field.
250cc SOLOS: Declan Killeen went down in the books as the first official winner on the 'big track' and he carried his good form all night winning his four heats and the Final. His opponent Lincoln Worroll is incredibly improved and enjoying his racing.
JUNIOR SIDECARS: These boys stay on the new Junior track for their battles. The smaller layout is a real test with seemingly tighter corners and a different dirt surface. Jack and Adam Fewster and Jake Harvey/Tyler Solomon won two heats each before the Fewsters grabbed the Final.
125cc SOLOS: Until this set of races Luke Killeen had been undefeated all season collecting the State Title and Gordon Rowland Memorial on his way. Luke had a great night, but not his best as he missed his first race, which was won by Jack McDiarmid. He won his second and then had his colours lowered in his third race by Mitchell McDiarmid. A great ride by Mitchell. Luke then rectified things somewhat with a win in his fourth heat and also the 125cc Final. Xander Smith continues to work hard against his much more experienced opponents.
PRE PROGRAM: 50cc's, Thumpsters, 125 Lites and Balance Bikes also make up the pre program along with the Junior Sidecars and 125cc's. Jett Harvey, Regan Dossett, Mason Robins, Nate Rice and Coby Robson made up the 50cc field and this training division provides great speedway experience. Likewise the Thumpsters and 125 Lites where Tylar Magden, Darcy Timmis, Axel McCarthy, Trevor Dossett, Max Harvey put on some great racing. All trying to get used to the new Junior layout especially the tight turns which caught a few out.
DIRT TRACKERS: A field of around twenty dirt trackers appeared for a set of three heats and a final. Every race was all in and the competition was of a very high standard with several standout riders including Tim Boujos who won the Final. Johnny Barty was also one of the main contenders all night taking a heat and finishing third in the Final. Speedway rider Matt Marson showed his ability by winning heat two and finishing second in the Final. Other riders of note included Chris Leisk and former circuit and speedway racer Jessica Boujos. The races were certainly crowd pleasing and we look forward to more of the Dirt Trackers.
END.
Pinjar Park Motorcycle Speedway – Thumpsters
Summer Slam – Round 1 – 15 December 2018
Rider
Total
Heat 1
Heat 2
Heat 3
Heat 4
Heat 5
Heat 6
Points
Final
Tyler Magden
8
3
1
1
2
7
1
Axle McCarthy
11
1
3
2
3
9
2
Darcey Timmis
10
2
2
3
DNF
7
3
Rider Final
Points
Place
Gate
Tyler Magden
1
3rd
Axle McCarthy
2
2nd
Darcey Timmis
3
1st
Pinjar Park Motorcycle Speedway – Junior 125 Solo Lites
Summer Slam – Round 1 – 15 December 2018
Rider
Total
Heat 1
Heat 2
Heat 3
Heat 4
Heat 5
Heat 6
Points
Final
Max Harvey
8
2
3
0
3
8
Axle McCarthy
5
1
0
3
1
5
Trevar Dossett
6
3
2
1
0
6
Darcey Timmis
5
0
1
2
2
5
Pinjar Park Motorcycle Speedway – 125cc Solo
Summer Slam – Round 1 – 15 December 2018
Rider
Total
Heat 1
Heat 2
Heat 3
Heat 4
Heat 5
Heat 6
Points
Final
Luke Killeen
11
DNS
3
2
3
8
3
Mitchell McDiarmid
9
2
2
3
DNS
7
2
Jack McDiarmid
8
3
1
1
2
7
1
Xander Smith
2
1
0
0
1
2
0
Rider Final
Points
Place
Gate
Luke Killeen
3
1st
Jack McDiarmid
1
3rd
Mitchell McDiarmid
2
2nd
Xander Smith
0
4th
Pinjar Park Motorcycle Speedway – 250cc Solo
Summer Slam – Round 1 – 15 December 2018
Rider
Total
Heat 1
Heat 2
Heat 3
Heat 4
Heat 5
Heat 6
Points
Final
Lincoln Worrell
10
2
2
2
2
8
2
Declan Killeen
15
3
3
3
3
12
3
Rider Final
Points
Place
Gate
Lincoln Worroll
2
2nd
Declan Killeen
3
1st
Pinjar Park Motorcycle Speedway – 500cc Solo
Summer Slam – Round 1 – 15 December 2018
Rider
Total
Heat 1
Heat 2
Heat 3
Heat 4
Heat 5
Heat 6
Points
Final
Daniel Winchester
14
3
3
3
3
12
2
Josh Bailey
15
3
3
3
3
12
3
Doug Scoble
10
3
2
2
3
10
0
Matt Marson
10
2
3
3
2
10
Frank Smart
9
3
F
2
3
8
1
Jason Marzoli
7
2
2
2
1
7
Blake Russell
7
2
3
1
1
7
Desmond Heyes
6
0
2
3
1
6
Ryan Pope
6
1
1
2
2
6
Kris Keist
5
1
2
1
1
5
Jason Bishop
4
2
1
1
0
4
Drew Winchester
3
0
1
0
2
3
Brad Gordon
1
DNF
EX
1
0
1
Rider Final
Points
Place
Gate
Josh Bailey
3
1st
Frank Smart
1
3rd
Doug Scoble
0
4th
Daniel Winchester
2
2nd
Pinjar Park Motorcycle Speedway – Sidecars (Juniors)
Summer Slam – Round 1 – 15 December 2018
Rider
Total
Heat 1
Heat 2
Heat 3
Heat 4
Heat 5
Heat 6
Points
Final
Jack Fewster / Adam Fewster
13
2
3
3
2
10
3
Jake Harvey / Tylar Solomon
12
3
2
2
3
10
2
Rider
Points
Place
Gate
Jack Fewster / Adam Fewster
3
1st
Jake Harvey / Tylar Solomon
2
2nd
Pinjar Park Motorcycle Speedway – Sidecars (Seniors)
Summer Slam – Round 1 – 15 December 2018
Rider
Total
Heat 1
Heat 2
Heat 3
Heat 4
Heat 5
Heat 6
Points
Final
Russell Mitchell/Andrew Sharp
11
3
1
3
2
9
2
Adam Wenn / Morgan Cornwall
9
2
2
3
2
9
0
Ryan / Adam Fanderlinden
10
2
2
2
3
9
1
Darren Nash/Peter Teale
10
3
DNF
1
3
7
3
Steve Scoble/Gaynor Scoble
6
DNF
3
2
1
6
Reece Liptrott/Jesse Thomas
6
F
DNF
3
3
6
Chad Harvey / Nathan Metcalf
6
3
3
0
DNF
6
Brad Willis/Josh O'Brien
6
2
1
2
1
6
Clayton Mills/Scott Moffat
6
EX
3
1
2
6
Horrie Payne/Clinton Holmwood
2
1
0
1
0
2
Jeff Bishop/Daniel Bishop
1
1
0
DNS
DNS
1
Rider Final
Points
Place
Gate
Russell Mitchell/Andrew Sharp
2
2nd
Adam Wenn / Morgan Cornwall
0
4th
Darren Nash/Peter Teale
3
1st
Ryan / Adam Fanderlinden
1
3rd